4 Teeth Replacement Options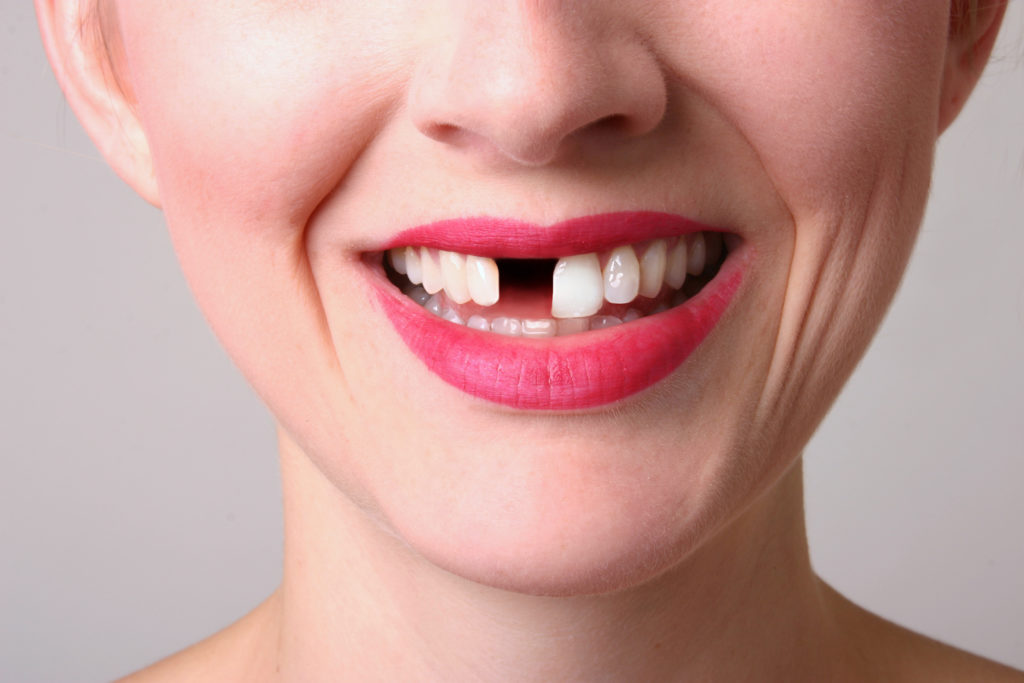 Losing baby teeth was an exciting time during childhood. If it happens to your adult teeth, however, it's a completely different story.
Missing teeth can negatively impact your adult life in a number of ways. Firstly, it changes the appearance of your smile. This can cause embarrassment and reduce your confidence in social and professional environments. Secondly, it also can affect chewing, making it harder to enjoy some of your favourite foods.
In short, tooth loss is not fun for any adult and can have a major impact on your confidence, appearance, chewing, eating and social life. But the good news is, modern dentistry has advanced the treatments available to replace missing teeth. If you find yourself in the situation due to a dental issue or an accident, there are tooth replacement options to suit a variety of needs and budgets. Here's the lowdown on the best teeth replacement options.
Dental Implant
Dental implants, as the name suggests, is a single tooth-like structure that is meticulously placed in the gap of the missing tooth. It is the most popular method of replacing a missing tooth because it looks natural, is stable and strong, and has a longer lifespan than most other options. While it may cost more than other treatments, dental implants can last a lifetime, making them a more cost-effective solution in the long run.
Here at Mulgrave Dental Group, our experienced dentists in Melbourne use the latest 3D technology to ensure the implant is placed in a gentle and efficient manner. The advanced equipment we use at our clinic ensures a painless and quick placement of the dental implant, with minimal postoperative discomfort.
Dentures
Dentures are false teeth worn to replace missing teeth. There are two types of dentures – full or partial. Full dentures are a set of false teeth that fit over the gums. If you don't need a full set, partial dentures can be inserted to replace the missing tooth.
Dentures are a budget-friendly option for tooth replacement treatment, however, it's important to note they don't last as long as dental implants, and the costs of replacing them can quickly add up. Some people also find them uncomfortable and awkward as they can click when you eat or speak.
All-On-4
The term 'All-On-4' refers to the complete replacement of all teeth on four dental implants. This provides a fixed, very stable, comfortable alternative to full dentures that are fixed into the mouth. All-On-4 is suitable for people who:
Hate wearing loose, uncomfortable dentures

Embarrassed about dentures possibly falling out

Cannot have traditional dental implants due to not enough bone or extensive bone loss in the past

Does not want to or cannot undergo extensive bone grafting procedures.
Dental Bridges
Dental bridges are a reliable teeth replacement option for missing teeth. They consist of false teeth, known as pontics, attached to crowns placed over natural teeth or implants. Bridges are sturdier and longer-lasting than dentures but not as long as implants. They provide a permanent solution, do not require special care, and blend seamlessly with surrounding teeth.

What teeth replacement options are best for me?
Everyone's mouth is unique, just as his or her wants, needs and budget.
Here at Mulgrave Dental Group, our experienced cosmetic dentists and sleep dentists in Melbourne will spend time with you to first understand what your needs and requirements are both for now and in the years to come. We will also perform a comprehensive examination to check for the suitability of each option to your mouth.
We will then discuss some suitable options, costs, pros, and cons of the different options to ensure you're fully informed of the choices. Below is a before and after shot of one of our valued patients who underwent a missing tooth replacement treatment at Mulgrave Dental Group. The results transformed this patients smile and bought back confidence.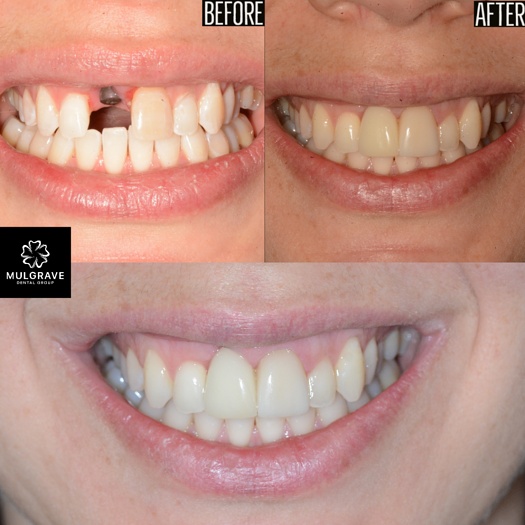 Whichever tooth replacement option you choose, be assured that here at Mulgrave Dental Group, we will focus on taking the time and effort to achieve superior quality and precision to ensure longevity and comfort for you.
If you wish to talk to one of our dentists about the best options for you, call us on (03) 9562 5156 to book in an appointment.