At Mulgrave Dental, we aim to improve your confidence by delivering personalised treatment plans to give you a beautiful smile. If you find yourself hiding your teeth or feel self-conscious about their shape, our veneers for teeth will straighten gaps, rectify crookedness and disguise stains or breakages.
Get a more natural looking and lasting smile with Porcelain facings that can change the shape, size, and color of teeth. The porcelain facings are carefully prepared and bonded to natural teeth. When undergoing dental veneer treatment there are several crucial steps that ensure success.
Trial the smile you want before any treatment starts to ensure you are happy with the final outcome.
Choose a dentist who has undergone the necessary training and has the experience in this specialized procedure.
Choose a dentist that uses an experienced and well trained dental technician that has the craftsmanship to create beautiful natural looking porcelain facings.
Choose a dentist that takes time and effort to ensure the porcelain veneers are carefully bonded to the natural tooth. This can sometimes take hours to do correctly and if not done well can lead to staining, fracture and irreversible gum and tooth problems.
At Mulgrave dental group our Australian trained, experienced and meticulous dentists and local dental technicians will ensure beautiful long lasting veneers without compromising your oral health.
What are teeth veneers?
Veneers are tooth-coloured shells made of porcelain, resin or other composite materials that are placed over the top of your existing teeth. Covering the visible parts of your teeth, these facings create a straight and beautifully natural-looking smile. Veneers are customised to perfectly match the tone and shape of your teeth for a new and improved appearance.
Veneers for teeth are the perfect smile solution
Bleaching and whitening treatments are a great way to improve the brightness of your smile. However, they aren't able to mask the uneven colouring of fillings or the more intense discolouration caused by root canals. Our veneers for teeth are designed to create an effective solution to discolouration, providing an evenly white and bright smile.
If you're looking for a non-invasive and quick solution to teeth straightening, veneers are a relatively painless alternative to braces or dental implants. Veneers for teeth act as a tooth overlay that covers noticeable chips, breaks and general wear and tear to create straightness and alignment across your mouth for a total smile transformation. Designed to be temporary, veneers can be adjusted as you age and easily replaced should any chipping or significant staining occur.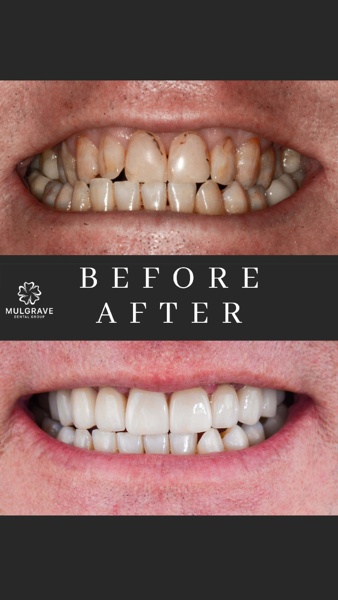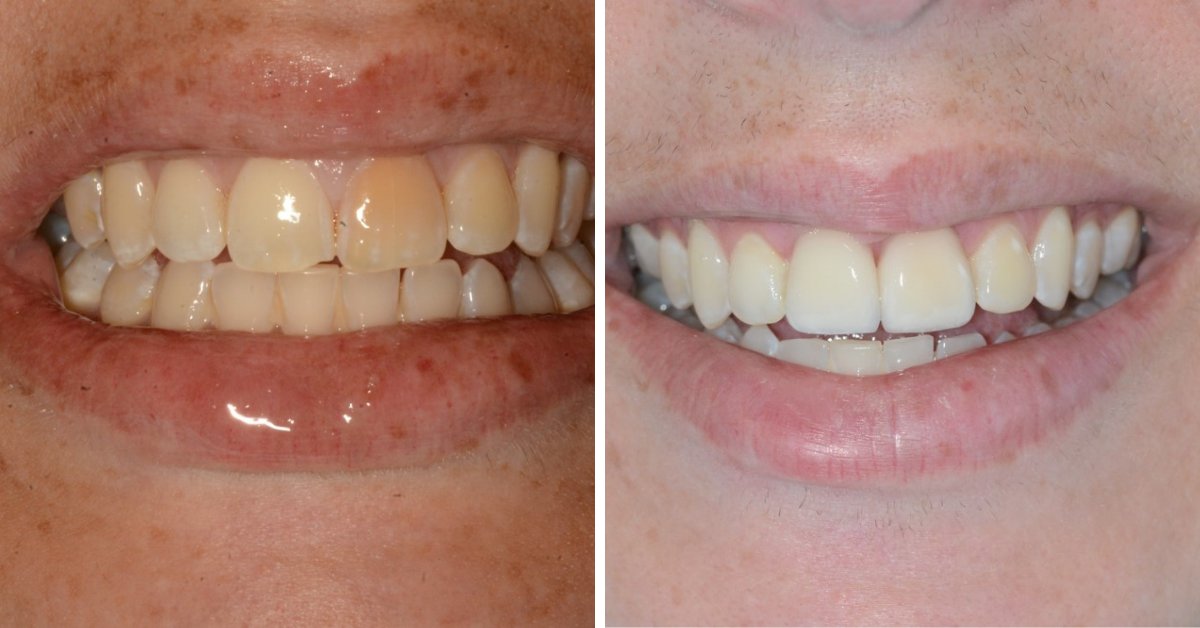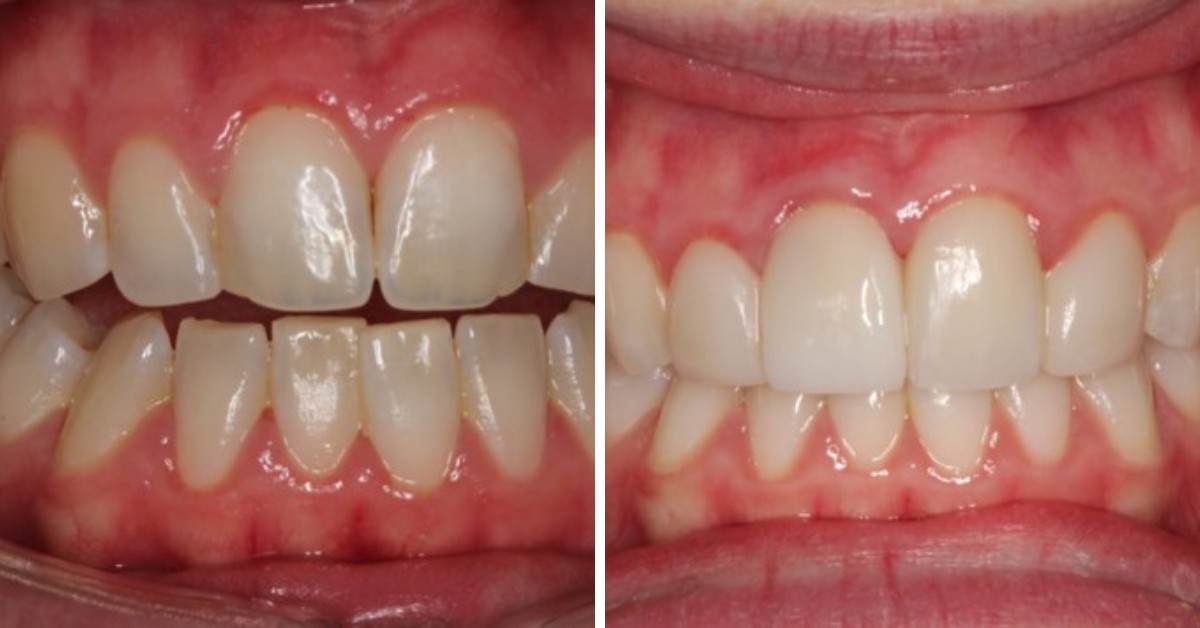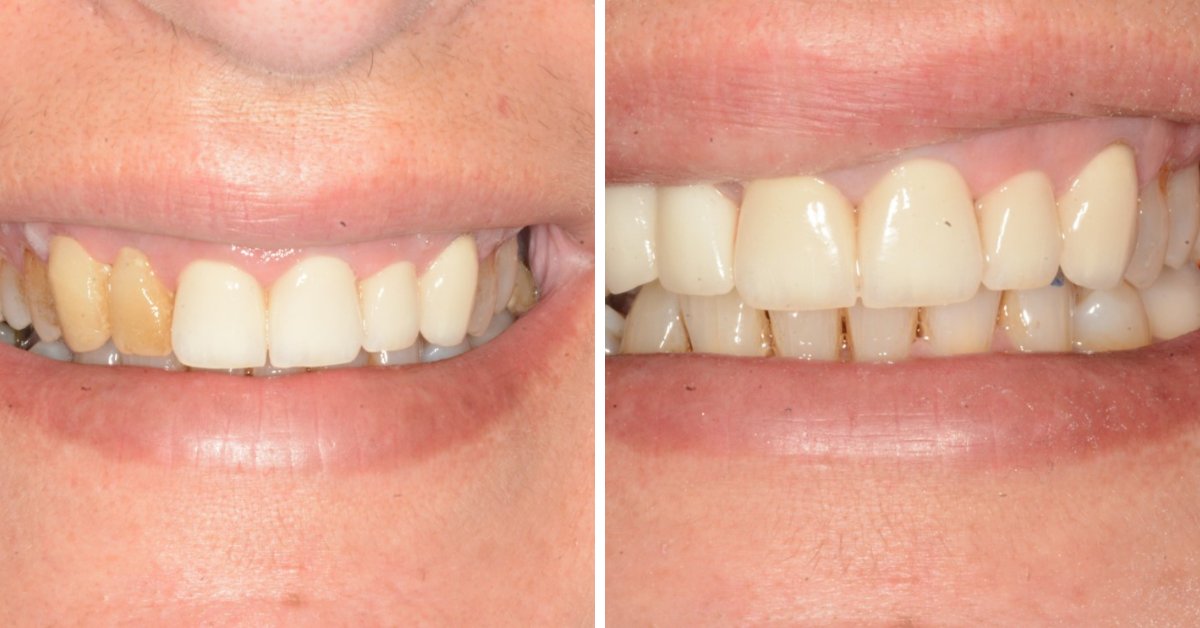 Our treatment process for porcelain or resin veneers
The team at Mulgrave Dental are trained and experienced to provide expert and personalised dental veneer treatment. An initial consultation is organised to diagnose your dental problems and develop an appropriate and customised treatment plan.
Our dentists will comprehensively assess your tooth structure by taking X-rays of your mouth to ascertain any dental issues and create a mould of your bite impression. They will also take images of your teeth, to accurately colour match your new veneers. Following this first assessment, your temporary veneers will be crafted for installation at your next appointment.
You can trial your temporary veneers for two to three weeks to see if they're the right fit — after which your dental veneers will be installed at your third appointment. Following the installation of your teeth veneers, the before and after images will astound you. Experience a boost in confidence with our natural porcelain or resin veneers, for a new smile to debut to your friends and family.
What do teeth veneers cost?
The cost of your veneers will depend on the width of your smile line. A common smile line comprises 6 teeth — however wider smiles may encompass 8 or more teeth which will require additional veneers at an additional cost. Dental veneers for teeth and most other cosmetic dental treatments are covered by private health care funds under the 'major dental' category. Our staff are more than happy to provide advice on private health coverage and discuss a payment plan that suits your needs.
Boost your confidence with veneers for your teeth at Mulgrave Dental
At Mulgrave Dental, we want you to feel confident in your smile by delivering personalised dental treatment plans. Whether you're looking for a painless solution like temporary veneers and teeth whitening or more permanent procedures like dental implants and teeth straightening, our team has the expertise to meet your every need. For more information on our veneers for teeth and to arrange a consultation, get in touch with us today.